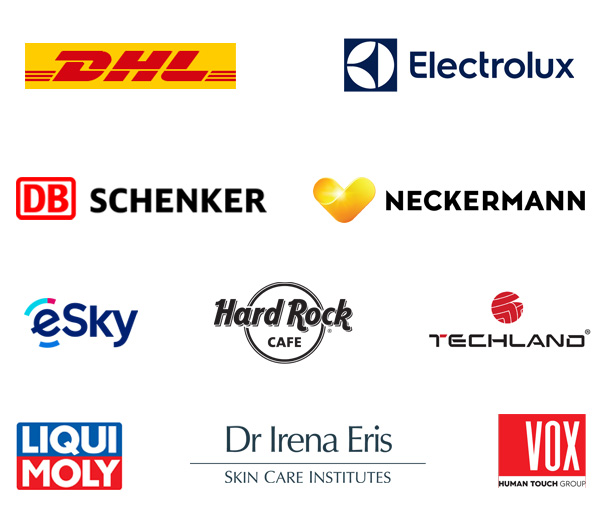 We started cooperating with Testportal when we introduced a new training method for our business partners. The innovative product workshops was a perfect match for tests in mobile application. The company provided us with a non-standard solution on time and professionally, this shows they are flexible and focus on customer's needs. The workshops I mentioned before were held in 10 different cities and attended by over 700 partners - THANK YOU VERY MUCH!
Testportal helps us in the process of testing employee competence in the customer service department - we can evaulate their work remotely. These tests perform well also if you want to check effectiveness of company training.
We used Testportal to test our employees' knowledge of companys portfolio and competitors. The main goal was to encourage employees to revise information and to verify their knowledge. Testportal satisfied all our expectations.
We use Testportal in our company for recruitment purposes. This tool performs well for initial check of candidate's knowledge before the job interview.
Thanks to online tests, we can save our time and make better choices.
We used Testportal application to test competence and knowledge among Sales Department employees in five branches in our country. The main purpose was to see fields which require improvement and to motivate Advisors to develop. I can honestly say that we plan to use this tool on a regular basis, and its major value is accessibility and easy use. I recommend it.
Thanks to Testportal application, we save time dedicated to checking knowledge among rookies and experienced workers. Our consultants can revise all information, including details. Since it is possible to monitor respondents and block websites, supervising respondents is now much easier. It is possible to save a lot of time because questions can be created quickly and easily, the portal is operated in a simple way and tests can be assessed automatically. The fact that we can extend or shorten response time is also very useful. As it is possible to set time for the entire test or specific questions, we can adjust the test to each respondent. A possibility of copying test questions, moving to another test, deactivating tests and reactivating them let us use one test and we do not need to create another afterwards.
We recommend Testportal to all those who prioritize fast and modern knowledge check as well as who protect natural environment and their budget.
We are happy to recommend Tesportal services.
IT CULTURE has been using Testportal since October 2014. We use the platform to check employees' knowledge and to conduct surveys and collect reviews. Considering our long-term cooperation, we can now say that weve been cooperating with professionals who always fulfill our orders and adapt to our needs.
There is no doubt that Testportal is a trustworthy partner. We wish you further success.
I recommend Testportal application wholeheartedly.
The use of Testportal application in the process of selecting and recruiting candidates is fundamental for the course and duration of this process. Thanks to intuitive and easy use, we can create recruitment tests in just a while. As the tests are conducted online, we are able to check knowledge and skills in a short time.
It is a fantastic application for companies which value classic simplicity and functionality as well as top-quality service.
We use Testportal application in our company to check knowledge among Internet course participants. It is a very useful tool which assures fast and objective knowledge check.
The use of the application is intuitive and friendly both to us and our customers.
I use Testportal application to create examinations after trainings. Thanks to the platform, this process is automatic and quick, and clear results are provided. It is a huge help, especially if you need to conduct examinations after e-learning trainings.
Functional and user-friendly tool.